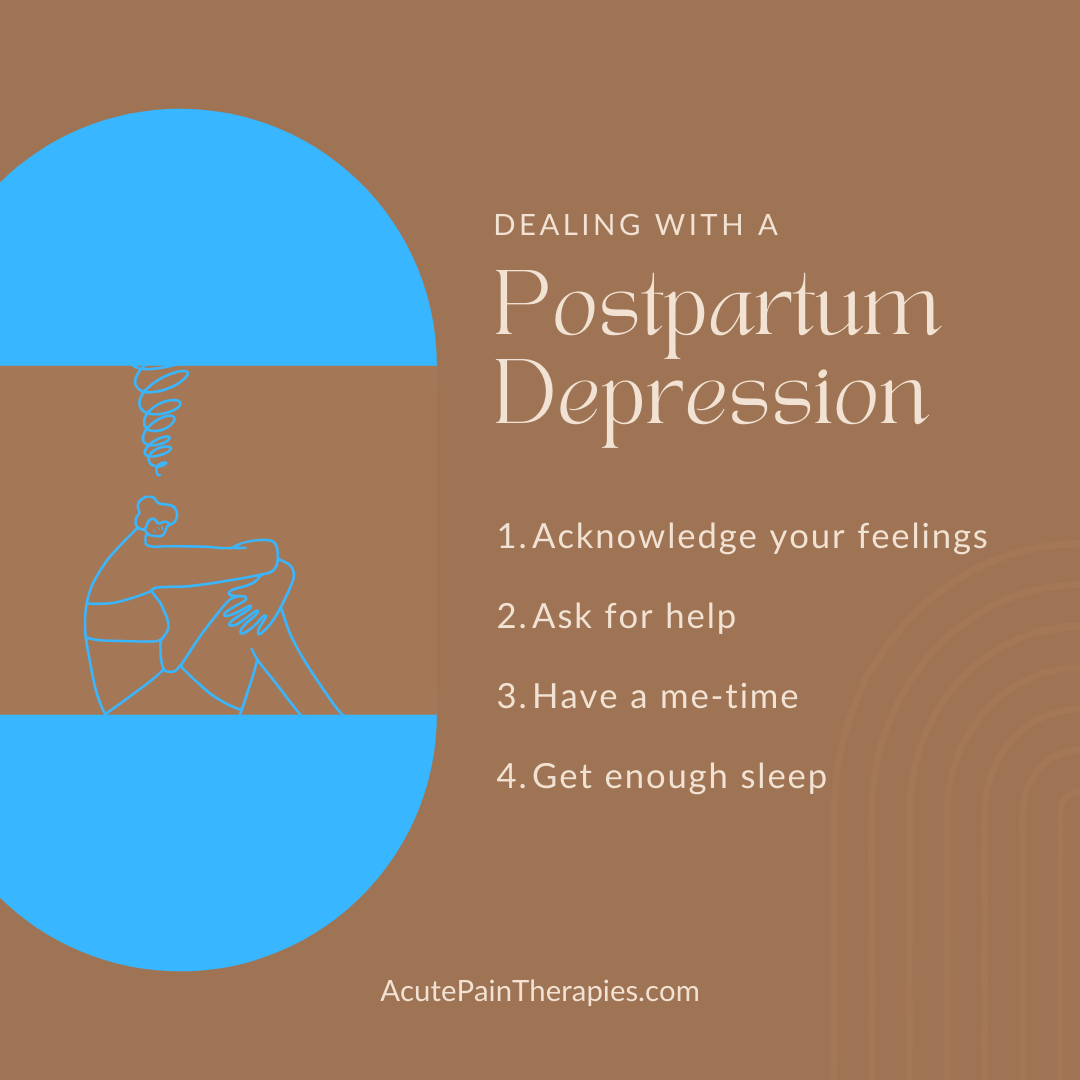 What is it?
What is Postpartum Depression?  Depression that occurs after childbirth.
Those who develop postpartum depression are at greater risk of developing major depression later in life.  Symptoms might include insomnia, loss of appetite, intense irritability, and difficulty bonding with the baby.  Untreated, the condition may last months or longer.
Covid19, Delta & Omicron
The past two years ushered in the pandemic, loss of work, home schooling, isolation, and loneliness for many.  These can be triggers for feelings of depression, anxiety and even experiencing the physical effects of pain.  At Acute Pain Therapies we treat depression and chronic pain and have talked about (through this blog) the link between chronic pain, depression and sleep, even.  We offer comprehensive chronic pain management with a multi-modal approach including consultations, medication management and a wide variety of interventional pain procedures.  Our Bellevue Ketamine division is the longest standing ketamine infusion clinic in Washington state.
Beginning April 1, we will be offering treatment for those with treatment-resistant prenatal and postpartum depression through Electroconvulsive Therapy (ECT) and Transcranial Magnetic Stimulation (TMS).  ECT uses electrical currents to cause the brain to seize, which acts in a similar manner to a reset button. TMS uses low-intensity magnetic pulses to stimulate the nerve cells of the brain which facilitates growth and healing.
Demographics
Male, female, trans – all pregnant people can experience prenatal and/or postpartum depression.
Prenatal depression is almost as common as postpartum depression.  The prevalence of depressive disorders is 18.4% during pregnancy and 19.2% in the puerperium.  When one thinks of a pregnant woman, or if a pregnant person declares, "I'm pregnant!" the expectation is that they would be excited, glowing even.  Prepartum depression is associated with preterm birth, low birth weight, and an abnormal fetal heart rate; many pregnant people are reluctant to take medications during pregnancy fearing they might adversely affect the fetus.
Introducing Dr. Molly Davis
We are delighted to welcome Dr. Davis to our practice.  She was born and raised in Spokane, WA and is a third generation Spokanite dating back to her great-grandmother!  She earned her undergraduate at Stanford University, then attended the University of Washington School of Medicine where she obtained her M.D., then completed her residency and fellowship at Oregon Health Sciences in Portland, OR.  She also served as chief resident in her final year of psychiatry training.  From there, she moved back to Seattle. Dr. Davis is board-certified by the American Board of Psychiatry and Neurology for General and Geriatric Psychiatry.
Devotion to patient care, improving quality of life and providing successful outcomes flourishes at the core of her practice.  Bottom line – Dr. Davis is about helping all people from all walks in a science-based and genuine manner, providing innovative solutions such as ECT or TMS for people suffering with treatment-resistant mood disorders, and often, intolerable side-effects from psychiatric medications.  Her goal for her patients is to see them live optimally, to be well and enjoy life.
If you are experiencing treatment resistant postpartum depression, anxiety or PTSD and feel you may be a candidate for ECT or TMS, contact our office and schedule a consultation.  Dr. Davis is accepting new patients beginning April 1, and we can schedule now!