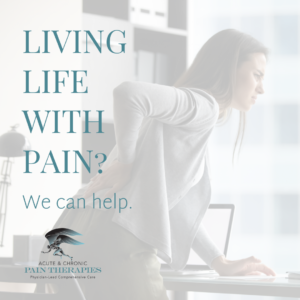 Pain management strategies can be classified into several
categories including medications, physical therapy, psychological therapy, procedural therapy. Spinal cord stimulation falls into the procedural category but all categories are important to achieving relief from chronic debilitating pain.
For those enduring chronic or severe pain, there are a range of procedural therapies that can help reduce pain, thus improving quality of life. Spinal cord stimulation (SCS), a now widely used treatment, has become an effective option for chronically disabling and nonresponsive pain.
SCS has had many technological improvements over the years. Even patients who have failed SCS in the past should continue to consider trying it again. The trial phase is a needle-only procedure performed under sedation. It is extremely well tolerated and minimally invasive. It gives patients a test-run of the system for several days. It can be removed easily and the worst part of the removal process is peeling off the tape.
Pain reduction is frequently seen with SCS treatment in patients experiencing chronic pain, including failed back surgery syndrome, complex regional pain syndrome, and other difficult to treat neuropathic pain conditions.
With chronic pain being a leading cause for physical and emotional suffering, Acute & Chronic Pain Therapies is passionate about helping our patients achieve their goals of a better functional life.
If you would like to learn more about spinal cord stimulation and how it may help you, contact our office and schedule a consult with Dr. Julian.
Periodically we schedule educational events about in-office procedures that are free to the public.  Please stay posted to our social media channels to learn more about upcoming events.