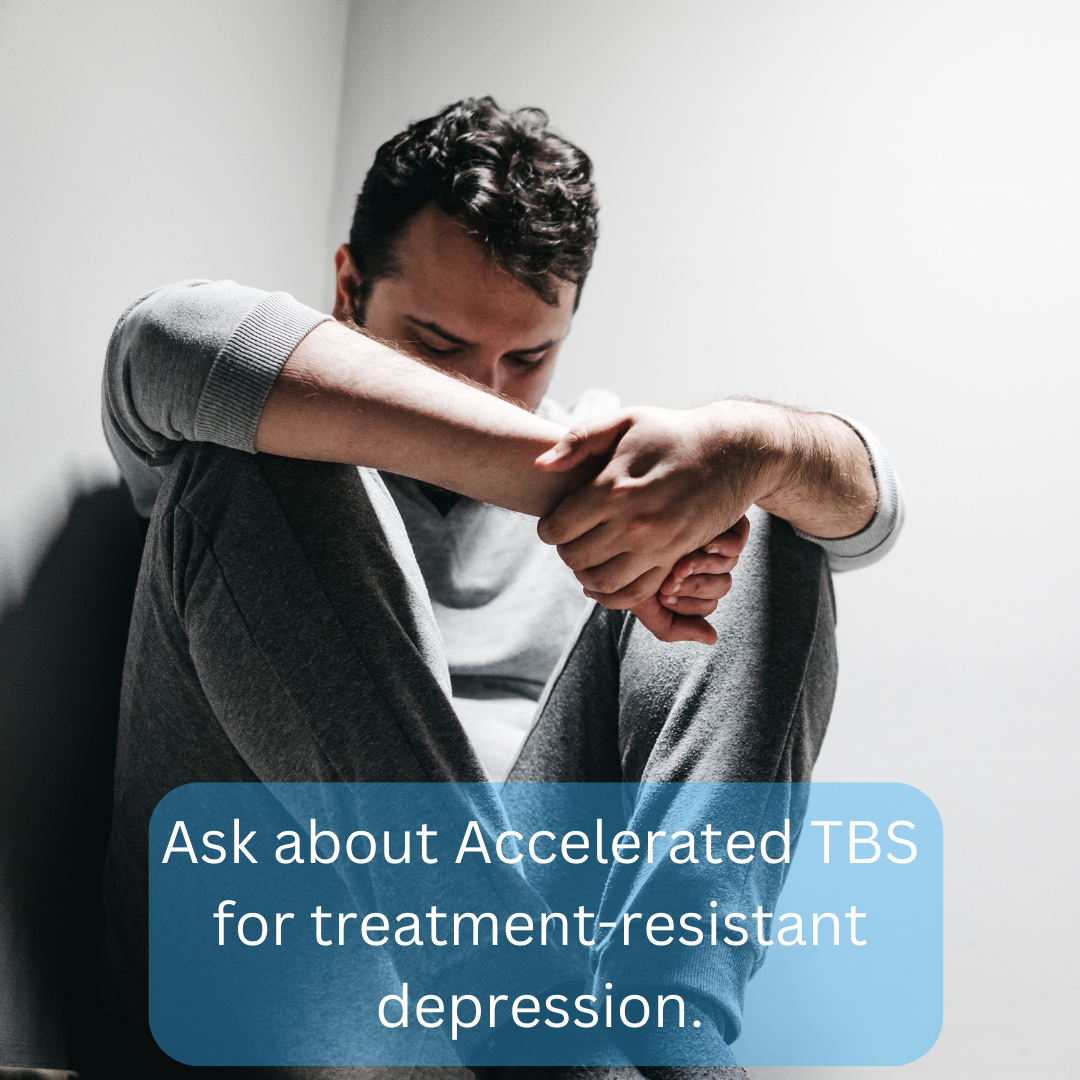 Introducing Accelerated TMS Therapy for Treatment-Resistant Depression.
Many of our patients come to us for treatment of depression. In some cases, their depression has been refractory, meaning resistant to treatment, therefore requiring a psychiatric referral and exploration of a more comprehensive approach. At Acute & Chronic Pain Therapies we offer Ketamine infusions, Spravato®, the nasal spray alternative to Ketamine infusions, Transcranial Magnetic Stimulation as well as intermittent Theta Burst Stimulation. All these are FDA approved and have proven to be effective modalities for treating depression, PTSD, anxiety, and other neurological disorders. These treatments also require a doctor's order. Accelerated TMS is a protocol offered for treatment-resistant depression, and there is no physician referral required. The protocol stimulation is administered for 9 minutes every hour, separated approximately every 50 minutes for a total of 10 hours for 5 days. In between stimulations, patients rest. We provide a comfortable room where patients may use their electronic devices, i.e., phones, laptops, iPads, and iPods. This allows patients to unwind, listen to music or meditation. It also allows for close monitoring of the patient's progress and consistency in treatment. It's known that depression is the leading cause of disability worldwide. In the first year of the COVID-19 pandemic, global prevalence of anxiety and depression increased by a massive 25%, according to a scientific brief released by the World Health Organization (WHO). Depression is the leading cause of over 800,000 suicides annually, therefore making it more important than ever to discover new antidepressant treatments that are safe, quick, durable, and effective.
As mentioned earlier, repetitive transcranial magnetic stimulation is a noninvasive brain stimulation technique approved by the FDA for treatment-resistant depression.  Standard rTMS is typically administered over 4-8 weeks and has been an effective intervention for treatment-resistant depression for more than a decade.  More recently, accelerated TMS has been shown to rapidly reduce symptoms of depression.  Accelerated TMS uses a very efficient pattern of electromagnetic pulses over a shorter duration of time.  With accelerated intermittent theta burst stimulation, the entire course of transcranial magnetic stimulation is delivered over 5 days; studies have shown 90.5% of patients with treatment-resistant depression achieved remission following one week of accelerated iTBS.  After one month, 70% of patients still met criteria for remission.  The treatment protocol combines accelerated, spaced delivery of stimulation session and higher overall pulse doses to achieve these remarkable results.
If you are suffering from treatment refractory depression, meaning you are unresponsive to therapy, you may consider Accelerated TMS. Contact our office to schedule.  Our goal for you is #painfree physical AND mental health.